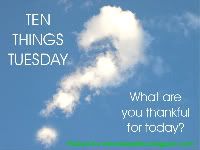 I can't believe another Tuesday is here again! These weeks are flying by!! I love that this reminds me to thank God for all he has given to us! Enjoy!

1.) My husband, and children!
2.) For the play area in the mall, It's a nice free Alternative for winter and being able to get out of the house! (even though it's not quite winter yet we were there yesterday!)
3.) For both our families! I truly treasure my sister and all of his, They are all my best friends!
4.) For my dearest friends, they are always here !!
5.) For constantly knowing that God is in control!
6.) I seriously can't get enough of all this beautiful cool weather!!!!
7.) I've started making hair bows as a hobby for Mady and her friends! I was sick and tired of not being able to find cute ones for her!!
8.) For ordinary days! I love just going around and just enjoying days that have no plans what so ever! except u know laundry, meals, beds to be made and laundry to be done! I love it!
9.) I'm very excited and thankful for 1st Wednesdays services It's an awesome time to just sing praises to God and to have communion as a church family!
10.) For a hot cup of coffee and the bible does a morning get any better than that??