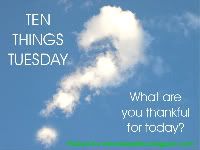 10 Things Tuesday!
I must say I look forward to this every week! It always reminds me to thank Our Lord for all the many wonderful things he has so graciously given to us!
1.) For such a fun and successful Mops yesterday! I'm so glad our Spa day went well! I was really looking
forward
to encouraging all the Mommies to spend some much needed time with the Lord! What a fun day! Thank you Jesus!
2.) For My hubby and all he does working 11 hour days so we can go away this weekend and he can take
Friday
off!
3.) So excited to spend the weekend at My parents!! Jayson is helping my dad with the town Fall Festival/Chili cook off! we are all so excited!
4.) My in-laws and one of Jayson's sisters are coming up and spending time this weekend with all of us! We are super excited!
5.) For my kids and how they always reminded me to have some fun! I truly enjoy them they are one
life's
Greatest blessings!
6.) For my girlfriends! All of them are amazing and I'm so
grateful
for each one of them! They are my best friends!!!
7.) For a day to just stay home and get things done! I have quite the catching up to do but a cool day is the perfect day to do it all in!!
8.) A friend of Mady's from dance class's dad (if that makes any sense?!) is able to fix our car it needs a left wheel bearing and is able to do it for a lot less then we were looking to spend! God is good!
9.)For home cooked yummy meals! I'm so excited for
Lasagna
tonight!!!
Yumm
!!!!!!!1
10.) Again for
GOD's
Love and grace I always am thankful for that! He love for all of us simply amazes me!!!
I hope everyone has a great day and remember to stop and Thank Jesus!!!!!!!!!!