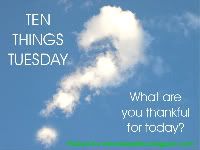 Another week is upon us! Oh how time is flying these days! Here's my list!

1.) I am so thankful for a successful pumpkin picking day with the other Mommies at MOPS yesterday!! (some pic in the blog underneath) We all had an awesome time!
2.) This is going to be selfish so please forgive me but I'm so thankful for my 1 hour away to get a new hair cut!! I've lost a little weight and wanted to go to my old stylish ways before kids LOL!!
3.) I am soo thankful for these cool brisk days! The kids are having so much fun playing in the leaves and enjoying the time playing outside instead of sweating and getting eaten up by those pesky jersey bugs!
4.) I'm am sooo thankful for the night chats my hubby and I have been having! It's so nice to connect with him w/o the interuptions of the kiddies!
5.) I'm so thankful for the bills that need to be paid for that just deepens my faith in God and Knowing that with him All things are possible!
6.) I'm so thankful for our home! It's perfect for our family !! There's no place like home!
7.) I'm thankful for the couple nights I had of sleep since I have a 15 month old who is teething!!
8.) I'm so thankful for coffee and vitamens!
9.) I'm so thankful for my family!!1
10.) I'm so thankful for all my husband does for our family he is simply the best! All the time he spends between work and the kids and me! I love him endlessly!