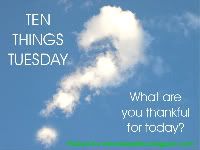 Here we are another Tuesday and I'm excited to follow in Mrs. Brownstones' footsteps and follow doing the "Yet I"!!

1.) I'm a sinner Yet I'm thankful for God's everlasting Love and his endless grace!
2.) So sad my husband has to struggle with depression and so hard to watch him struggle Yet I praise Jesus for him and for giving him this incredible gift of Compassion!
3.) I'm so discrougaged today Yet I'm praising you Jesus because I know you will get us through!
4.) I'm struggling keep my spirits up with Jayson so down, but Yet I'm thankful I'm looking to you Jesus!
5.) The living room is a mess Yet I'm thankful for my super cleaning yesteday and God's hearing my prayers!
6.) I can't believe this year's allergies issues for me and the kids Yet I'm sooooo thankful it's fall!!!
7.) I Have so much, I feel like I take a ton of things for granted Yet I'm so thankful Jesus knows my heart and knows how much I really Love Him!!
8.) I have been waiting to buy this push car thingie for my son Yet I'm soo thankful God keeping me Patiant and not running out and just buying it because I got it in the trash! ( I know that sounds gross but believe me I clean it well before I let any of our little fingers on it!!) but also supplies our wants!
9.) I have been searching for curtians for our bedroom and curtian rods' but couldnt find anything I have liked Yet this weekend my girlfriend gave me me some and they are exactly what I was looking for and didn't know how well they work in our bedroom! I found curtain rods rod Iron looking ones for only $5 !! Love good deals!!
10.) Can't believe I try to handle things on my own! Yet I'm so thankful I have a Loving God that carries me through tough times!!!!!!!!!!!!!

Sorry my list wasn't as cheery as it usually is! We are going through a rough time right now and I'm seeking and reaching out to Jesus because I KNOW he is going to get us through it!!! He's the only one who remains the same and is conastly lifting us up! We love you Lord Thank-You for always being here!