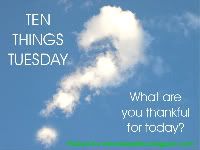 Here we are and another week! I have so much to be thankful for this week!!
1.) Yesterday was our 1st MOPS (mothers of preschoolers) at church and my 1st year as co-coordinator and we had 28 Moms out! What a turnout!
2.) Praising Jesus for the cooler weather! Fall is coming!
3.) An awesome day at church on God is soo good!
4.) For God always providing what we need even when money is sooo tight!
5.) For the sunday school teachers at our church Madyson learns so much and this week she told us all about David and Beolith (Goliath!) she says it like that !
6.) For my amazing friends and how greatful I am to have so many girls in my life!
7.) For my kids and how the light up my life!
8.) For being able to hang my wash outside and not wasting energy/adding to the electric bill!
9.) Bryson is just about walking now! So cute to see his little face light up as Jayson and I have him walk non-stop between us!
10.) For Jesus being so real in our lives and his constant and everlasting love!